Sun 19 Jun 2022, 10:30 - Sun 19 Jun 2022, 17:00
WE ARE SORRY, THIS MEETING HAS BEEN CANCELLED DUE TO FAMILY EMERGENCY
THE JUNE 26TH DATE IS STILL GOING AHEAD.
"Leave everything undefined, including yourself. Befriend uncertainty. Fall in love with mystery. Kneel at the altar of not knowing. Give your questions time to breathe…. and the answers will find you…" – Jeff Foster
DAY-LONG MEETINGS IN LONDON with JEFF FOSTER
ENDING THE INNER WAR
(SLOWING DOWN,
SURRENDERING TO NOW,
SAYING "YES" TO THE MESS,
AND DISCOVERING THE JOY
OF TRUE MEDITATION…)
*
TWO DATES AVAILABLE (You may attend one, or both!).
Sunday 19th June + Sunday 26th June
*Jeff's first meetings in London for over 2 years*
>> TO BOOK: https://endingtheinnerwar.eventbrite.co.uk/
*
"Jeff Foster shows us the 'How' of loving ourselves, and helps weary spiritual seekers breathe a big sigh of relief. Mindfulness and meditation teachers like Eckhart Tolle remind us to be Present in the Now. Contemporary psychology and neuroscience teach us to regulate and protect our nervous systems and make room for our deepest, darkest human feelings. Jeff Foster bridges these worlds, with authenticity, humor, wisdom and raw vulnerability. He shares his own courageous journey of healing and spiritual awakening through deep shame and self-loathing, suicidal depression, chronic illness and trauma, into lightness, freedom, love and hope. This is trauma-informed 'spiritual enlightenment' for a new generation, without dogma, without jargon, deeply relatable, and with a big dose of humor. Jeff's beautifully simple non-dual philosophy of acceptance and self-love is a welcome balm for the aching heart…"
*
DATES: Sunday 19th June & Sunday 26th June (You may attend either or both dates).
TIMES: 10:30-5 each day
LOCATION: St. Ethelburga's Centre for Reconciliation and Peace, 78 Bishopsgate, London, EC2N 4AG
*
Join author/poet/teacher Jeff Foster in London for raw and honest talks, meditations and Q&A on non-duality, healing, the joys and pains of spiritual awakening, falling in love with the "mess" of our vulnerable humanity… and remembering Oneness, wherever we are.
What if…
– Everything you think is wrong with you, is actually right?
– Spiritual enlightenment is already here, shining through the aware, awake simplicity of this moment, exactly as it is?
– The divine perfection you've always been seeking is actually contained in the midst of your tender vulnerability, doubt, shaky heart, and glorious human imperfections?
– There is precious alchemical medicine hidden inside your pain, and your deepest longings, aches, doubts, grief, and heartbreak are portals to joy and healing?
Has your life become an endless 'self-improvement project'? After years of working on yourself, meditation, therapy, spiritual seeking and trying to 'quiet your mind' or 'lose your ego', do you still feel far from where you wanted to be? Do you long to slow down, rest, come out of repetitive and exhausting thinking, and be deeply embraced, exactly as you are?
Come join Jeff Foster for a weekend deep dive into the depths of self-love, clear awareness and radical self-acceptance. Jeff himself is a survivor of suicidal depression, chronic illness and deep self-loathing and shame. He is not a therapist, a spiritual guru, or a self-help expert with all the answers, but one who has suffered very deeply, worked through his trauma, addictions, suicidal depression, profound self-hatred and desperate spiritual seeking, and found his own original way into a restful and safe Presence.
With humour, lightness, insight and compassion, Jeff makes spirituality simple, reachable, and human again. During your weekend with him, Jeff will share openly, honestly and provocatively about the myths of spiritual awakening and healing. He will cover topics such as….
* The joy of 'beginning again in every moment'…. The effortless art of true meditation
* Why 'working on yourself' doesn't always work, why 'doing nothing' can sometimes be the best solution of all, and how true healing can happen when we stop 'trying' to heal.
* The lie of "positivity". Discovering the beauty in our lostness, doubt, insecurity, failure and broken hearts.
* Why we don't need to 'silence the mind', 'get rid of the ego', or 'transcend the body'; rediscovering a grounded, embodied and honest spirituality.
* Why shame, fear, sorrow, unworthiness and even disgust can be portals to Wholeness.
"After many years of speaking with thousands of seekers," Jeff says, "I have realised that underneath nearly all of our suffering, spiritual seeking and exhausting self-improvement quest, there is a primordial sense that we are not good enough, that there is something missing at our core. Paradoxically, when we stop trying to feel worthy, and end the fight to fix or transcend ourselves, we can begin to discover we were never broken, and there was never anything to fix. When we stop seeking a different moment and instead dive courageously into this one, we can actually heal the addiction of a lifetime, and find the one thing we were always longing for: intimacy with Life itself."
In his own unique, playful and very human way, Jeff will help you drop out of your busy mind and connect with the living moment, your body and your authentic feelings. Through heartfelt talks, easy and restful guided meditations, silence, personal stories and honest dialogues, he will remind you that you are perfect and whole, exactly as you are. He will help you stay present and connected with yourself, no matter what life throws at you.
We look very much forward to seeing you!
Jeff, with his whole being, slowly and deliberately shoves a crowbar in your heart and pries it open and you can't shut it again." – S.H.
"Jeff has no lineage. So, he has no spiritual guru baggage to carry around. His meetings are just raw, naked, unconditional love. This is a new teacher for a new time with a timeless message…" – R.P.
MORE ABOUT THE MEETINGS
Slowing down, touching the sacredness in the ordinary…
During the course of each day, you will rest and surrender in presence with Jeff, who will help you drop out of the mind and connect with the present moment, your feelings and your vulnerable human body in his own unique, heartfelt, authentic way, using words and silences, guided meditations, personal stories and meditative dialogues.
The schedule is subject to change slightly on the day but will look something like this….
** DOORS OPEN AT 10am. **
10.30 – 12.15ish First Meeting (Please do try to arrive on time for a 10.30am meeting start, thank you!)
12.15 – 1.30 Lunch Break (Plenty of cafes and restaurants within walking distance, or you may bring your own lunch)
1.30– 300ish Second Meeting
3.00 – 3.30 Afternoon Break
3.30 – 4.30ish Third Meeting
4.30-5 – Time for goodbyes!
You may attend either day, or come both days.
Please do keep all phones on silent or switched off during Jeff's sessions. 🙂
THE VENUE
St. Ethelburga's Centre for Reconciliation and Peace, 78 Bishopsgate, London, EC2N 4AG
GOOGLE MAPS: https://goo.gl/maps/3byUMPthVS5rcitJ8
St Ethelburga's is a stunning venue situated near Liverpool Street in London, located inside one of London's most enduring church buildings. A 800-year-old church site, it has stood for centuries as consecrated ground. Destroyed by an IRA bomb in 1993, it has been rebuilt. Surrounded on all sides by skyscrapers, St Ethelburga's remains true to its ancient purpose, offering a space for connection with the sacred and with our deepest human values, a place to explore the relationship between conflict and faith.
The following transport lines have routes that pass near St Ethelburgas:
• Bus: 133, 135, 149, 153, 205, 344, 35, 43, 47, 8
• Tube: Nearby tube stations are Bank (6 mins walk) and Liverpool Street (5 mins walk) and Monument (8 mins walk) and Aldgate (7 mins walk).
MORE ROUTE ADVICE TO GET TO THE VENUE: https://moovitapp.com/index/en-gb/public_transportation-St_Ethelburgas-London_and_South_East-site_26347460-2122
OR TRY: https://tfl.gov.uk
VENUE WEBSITE: https://stethelburgas.org/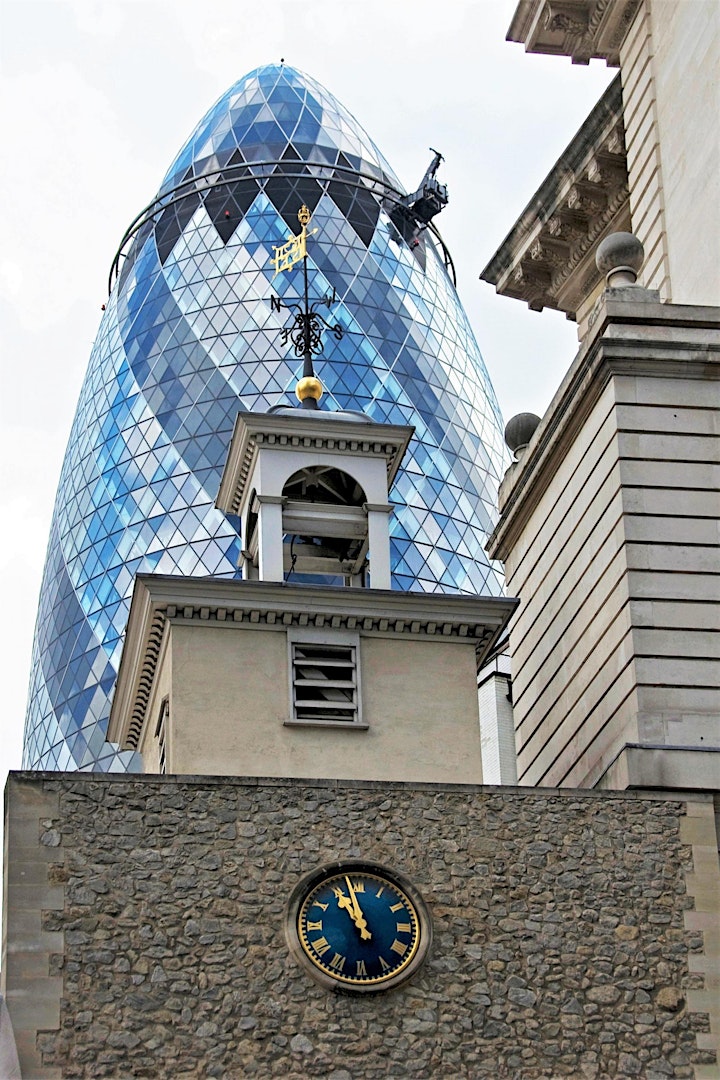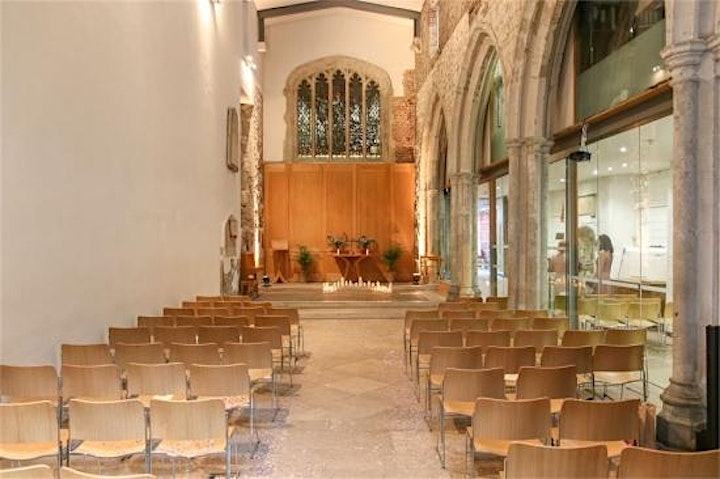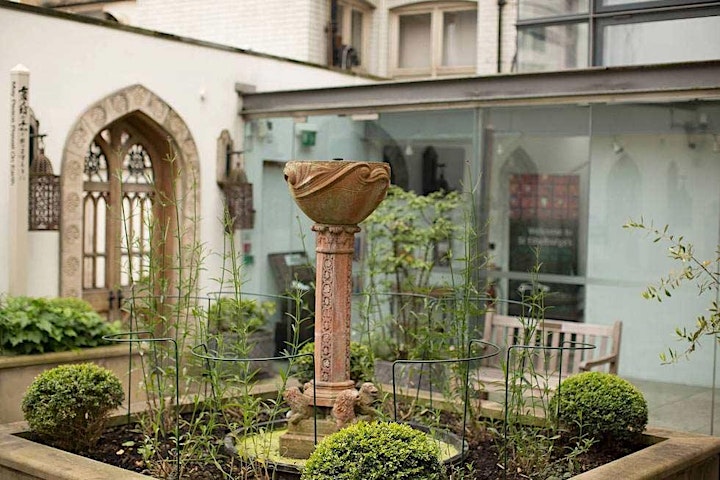 WHAT PARTICIPANTS HAVE SAID ABOUT MEETINGS WITH JEFF…
"Jeff has no lineage. So, he has no spiritual guru baggage to carry around. His meetings are just raw, naked, unconditional love. This is a new teacher for a new time with a timeless message. I am done with gurus and teachers. My teacher is the ugly bird bathing in the filthy water in my birdbath on my deck that I need to change the water in. My teacher is the crevice in the rock where water is naturally drawn into. My teacher is the check-out clerk at Walmart…" – R.P
"Thank you so much Jeff, you funny, shy, humble, powerful man, always present, always listening with your endlessly open heart, suddenly bursting into laughter because of your own hilariously funny little jokes, taking us all with you into this lively laughter, making us feel so alive and so ONE with you and each other…" – M.R.
"After a lifetime of spiritual quest, after all the insights, experiences, revelations, I finally found the missing ingredient that gives the courage to stay here, now, without the reference to my personal drama. The infinite tenderness that addresses the human being. Infinite, beautiful, human mystery. Only this infinite tenderness that Jeff incarnates has the power to bring me back here, now, again and again and again, in the fullness of what is and not in the longing for what is not. Yes, it does take courage. But with the infinite tenderness of love, yes, it is possible. Thank you Jeff for this infinite tenderness. For this infinite humanness that we encounter so rarely on the non dual path. Thank you thank you thank you." – H.F.
"Our world does not need any more gurus, teachers and saviours, but honest human beings who live here among us, who strive to switch on a light-bulb in the darkness of the emotional underworld. Thanks, Jeff, for being a role model" – E.S.
"Jeff is a wonderful soul, filled with tenderness and love, humour; humility and a silent heart. I felt embraced every time he was looking at me while asking my questions. I needed so deeply to be seen, heard and loved from inside. This retreat softened profoundly these wounds of "unseen, unloved, unrecognised from childhood". I experienced the love of life for me a whole day which gave me the sensation to belong to a family on earth, which softened also the inner feeling of loneliness, solitude…" – R.P.
"Jeff wasn't someone I was going to get enlightened from. He wasn't someone who was going to free me from my mind. He was someone extremely rare, like a jewel. He was someone who I could finally expose myself to, and not be abandoned, and not be rejected. He was someone whom would go with me to my depths. He was someone who embodies the true essence of what love and acceptance is. He was someone I could finally 'meet'. An invitation to fall apart. Vulnerability." – G.C.
"Jeff has been the biggest life-changer and presence-bringer I needed in my life. I am forever grateful to him for helping me to stay Present and accept my full humanity, in all of its doubts, fears, sorrows, its sensations, feelings and its joy. Truly, thank you!" – R.L.
"I was touched by Jeff's unconditional welcoming, by his simplicity and honesty. I appreciated his ability not to provide answers, not to orient people towards his personal inclinations, but rather gently being totally present for everyone. I felt accepted as never before…" – D.T.
"Jeff, thank you for all the tears, love and laughter. The water gates really opened. So much pain, sadness and joy, that I wasn't aware of in my body, could find its way to the surface… Eye-opening on so many levels. No more hiding!" – T.G.
JEFF'S BIO
Jeff Foster studied Astrophysics at Cambridge University. In his mid-twenties, after a long period of depression and illness, he became addicted to the idea of 'spiritual enlightenment' and embarked on an intensive spiritual quest for the ultimate truth of existence.
The spiritual search came crashing down with the clear recognition of the non-dual nature of everything, and the discovery of the extraordinary in the ordinary. In the clarity of this seeing, life became what it always was: intimate, open, loving and spontaneous, and Jeff was left with a deep understanding of the root illusion behind all human suffering, and a love of the present moment.
Jeff was voted #59 on Watkins Review's list of the world's 100 Most Spiritually Influential Living People. Jeff has published several books in over ten languages. His latest book "The Joy of True Meditation" is published by New Sarum Press.
Jeff's website can be found at: http://www.lifewithoutacentre.com